Screen Cleaning
Do you wonder about the best way to clean screens?  Many of us in the industry have used a "Dry Brush" method where the screens are just dusted off.  Others have used a damp rag to wipe off the screens and frames.  After using both methods, and with frustrating results, I manufactured a device that uses the best of both and actually washes the screen and frame.   So after we clean your window, we use our screen cleaner to wash your screens clean!  We then dry them off and re-install.  This level of cleaning is included for all of our window cleanings!  Guess what else…visit our sister company if you would like to buy or build one of these for yourself!  Clearview CleanScreen!
Window Screen Repair and Replacement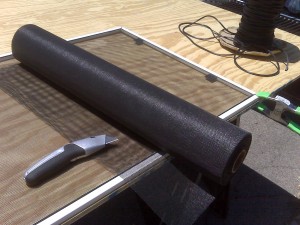 We now offer screen repair and replacement for customers.  Do you have screens that have been discolored due to sun burn?  What about holes and tears from hail damage?  Got a bent frame that needs to be replaced?  What about a window screen that needs the pull tabs replaced?  Or the screen door that the dog ran through?  We can fix all of these and more.  We offer all of these services on-site, or off-site, whatever is more convenient for you.  And for those custom window screens, we can help you get the right fit replacement if we can not do it ourselves.
Coverage Area: Colorado Springs, Monument, Black Forest, Falcon/Peyton and Woodland Park
Click Here to schedule a free estimate or to schedule a window washing or gutter cleaning appointment.  To see pictures of some of the work we have completed, please click here to see our Photo Page.