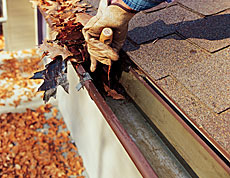 Who really likes to spend time on the roof, 30ft off the ground, in the wind, scooping rotted debris that has been up there for years.  What about then trying to unclog that one downspout that always overflows onto your deck and splashes up onto the windows.  Been there done that and do it often!
Clean gutters, just like clean windows are one of those maintenance things most homeowners don't think about until there is a problem, when in reality, you should have your gutters inspected and/or cleaned every 6 months.  The times we recommend are in the spring after the winter snows and in the fall, right after the leaves begin to fall.  Spring time is critical as all of the winter winds stir up all sorts of debris that can clog your gutter system and anyone who has lived through a Colorado summer storm knows that when it rains, it really does pour!  One clogged downspout can cause all sorts of turmoil during one of these storms.
Our system for cleaning your gutters is simple.  First, all of our ladders are equipped with stabilizers/stand-offs(which rest on the roof and not your gutter) as well as adjustable feet so that we can be level on uneven ground.  From there, we start by removing all the debris into trash bags, then we flush the entire system with water to ensure proper flow.  From there we move to your downspouts and use a hose system to make sure they are draining properly.  If not, we use a drain snake to clear the clog.  Once we are done with that, we will dispose all of the debris off site and sweep up and whatever debris that might have fallen on your deck, driveway or sidewalk.
Prices for residential and commercial gutter cleaning start at $0.99 cents per linear foot of gutter with a $95 minimum. Price is dependent upon several factors: length of gutter, number of downspouts, stories of the home, pitch and style of roof.  Gutter cleaning is available in Colorado Springs, Woodland Park, Black Forest, Monument, and the Falcon/Peyton areas.
Click Here to schedule a free estimate or to schedule a gutter cleaning appointment.
To see pictures of some of the work we have completed, please click here to see our Photo Page.
---
WHY YOU SHOULD MAINTAIN DOWNSPOUTS AND GUTTERS: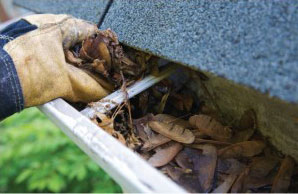 Don't neglect the importance of gutter and downspout cleaning. It will help you avoid costly future repairs for years to come. Keeping your rain gutters clean is critical in protecting your home from water damage caused by clogged gutters.
Taking the time to maintain and repair downspouts and gutters can double or even triple the life of your roof drainage system. This can save you a lot of money on repair costs for the duration.
Improper drainage as a consequence of poor roof pitch is one of the biggest factors behind roof drainage problems. Improper drainage causes water to accumulate in certain spots inside the gutters, ultimately building up debris and accelerating rust. Our Difference is Clear!
BELOW ARE A FEW EXAMPLES OF WHAT DIRTY RAIN GUTTERS CAUSES:
Dry debris within the rain gutter and roof can cause house fires from falling ashes.
Insects and other unwanted bugs are attracted to an unclean gutter, for it provides an excellent nesting ground and food source for these unwanted pests, especially mosquitoes.
Gutters improperly installed or that are clogged can overflow down the back of the gutter and cause water to seep into the house or create wood rot that costs thousands more compared to a simple maintenance.
Even when your gutter is relatively new it can be a hazard, a lot of debris and dirt can come off a roof. And a gutter not installed correctly may leak and cause damage to your paint. Protect your house and give us call today.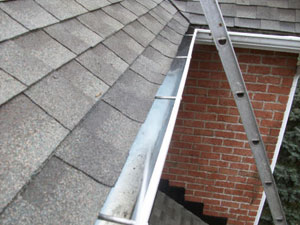 Gutters and downspouts are a key element in protecting your home during heavy rains. Gutters prevents your roofs fascia boards from getting wet and rotting out. They also protect the underneath side of your roof from getting water in there and doing more damage. Downspouts prevent water from pooling beside your foundation and seeping into your basement.
Obviously, gutter and downspout cleaning will keep your gutters cleaned out and prevent water from backing up and causing this sort of damage. Water flows smoothly through the gutter channel and out the downspouts and away from your home.
Most homes are designed to have gutters divert water away from the foundation. Moisture inside your home structure foundation contributes to exterior cracks in the brick and mortar, which can lead to extensive structural damage of your property.
Cleaning rain gutters and downspouts is something which everyone that owns a home or business needs to have done as part of their regular exterior maintenance. Whether your home or business is large or small we can clean the gutters.
Clearview Windows Incorporated would like to service your gutters by removing all leaves, pine needles and debris from the gutters and downspouts to assure you of a trouble free system. Our Difference is Clear!
Click Here to schedule a free estimate or to schedule a gutter cleaning appointment.
To see pictures of some of the work we have completed, please click here to see our Photo Page.
IMPORTANT NOTE: If you are considering having your windows cleaned make sure you have the gutters cleaned first. Overflowing gutters can make windows that have been just cleaned dirty again.