We get asked all the time, why should we hire a professional window washer versus doing it yourself?  Well honestly, you can clean your windows by yourself.  How many of you wash your car?  What about mow your lawn?  Certainly the tools are available, but time, knowledge and experience are the key.  We are on ladders everyday, so we know about appropriate placement and footings.  We have seen and cleaned almost every type, size and shape of window out there, so we know how to clean them efficiently.  We utilize the latest and greatest professional grade equipment.  Windex and newspaper are not us.  Squeegees, specialized soaps, pure water systems and a few other specialized tools are us. Those tools are how we clean windows.  They work the most efficiently and provide the best results.
We get it, cleaning your windows is likely at the bottom of your to-do list.  Tall ladders, drips and streaks,  and a lack of the right equipment are all reasons you shouldn't clean your windows.  Fortunately, we are your resource for a professional window cleaning in Colorado Springs.
Wondering what our theory of customer service is?  We truly believe in wowing our customers and giving them more than just clean windows or gutters.  We want them to rave about us to their friends and family.  We want to see them every year and develop that relationship where they say "the front door is unlocked and your check is on the counter. If you need a water or soda, the fridge is stocked.  Will you lock the door on your way out?".  In addition to likeability, we clean windows pretty darn well too!
With regards to estimates, they are always free and we prefer to do them onsite versus over the phone.  Sure, it would be cheaper for us to not drive out to estimate your home, however, we want to be able to answer questions upfront, as well as set expectations in terms of time, accessibility, and potential problems.  Fortunately, you need not be present for an estimate as we don't need to enter the home, but we always love to meet our customers prior to cleaning.  With all of our estimates we provide a copy of our insurance policy.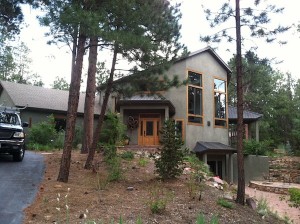 When first entering this business, I had some decisions to make. I spent by far the most time on one critical point. I wanted to provide an exceptional window cleaning service to the Colorado Springs area, not just another window washing company. Sure, there are plenty of low cost window washers out there, but Clearview Windows wants to develop relationships with our customers and be their window cleaning resource for the long haul. As you are about to discover, Our Difference is Clear!
Here is a complete description of how we clean your windows every time:
We start by going through the interior of the house and vacuum all the sills and tracks prior to washing a single window.
When we are inside, we wipe your window sills and tracks. Yes, we actually open the windows and wipe them out.
We then start with the inside windows top to bottom, left to right and remove the screens as we go.
We begin cleaning the inside of your windows first, employing a soft strip washer and a very concentrated window washing solution that is 100% safe and biodegradable. The solution we use will not only make your windows sparkle, but it will protect the glass from the harsh elements.
We then use either a razor scraper or wet steel wool(depending on window type) to aid us in the removal of any light paint overspray, bug marks, sap, etc
After thoroughly wetting the window again with our strip washer and solution, we squeegee the water off and towel dry all around the edges where water collects.
After the inside windows are done, we will then move our operation outside and repeat the process.
We hand wash each side of your respective screens with a soft bristle brush using a 100% safe, biodegradable liquid soap and set the screens aside to dry.
To wrap things up, we will proceed to walk around your home to double check the windows and put all of your furniture back where it was.
We pride ourselves on quality. And all of our work is 100% satisfaction guaranteed. Any streaks, smears, smudges, or finger pointers shall be dealt with immediately and with vigor. We are fully insured for your total peace of mind.
Click Here to contact us and schedule a free estimate or a window washing appointment.
To see pictures of some of the work we have completed, please click here to see our Photo Page.
A Clearview Windows Incorporated window cleaning is not your average cleaning. If you are looking for the cheapest window washing available, we are not your company. However, if you are looking for a long term window cleaning company, one where the owner does the work too, please call us! We look forward to servicing your window cleaning needs and being a trusted and reputable company which you are comfortable referring to your family, friends and neighbors. Our Difference is Clear!